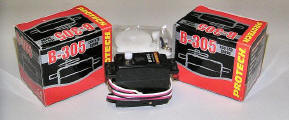 How much are 10 Protech B-305 servos at Steve Webb's Servo Shop? www.servoshop.co.uk
The small print:
Rules:
1. All entries by email only - martin@ModelBoatMayhem.co.uk
2. Competition duration - 17 June to June25 Midnight GMT.
3. Winners will be chosen by throwing a dart at a list of correct entries on a piece of paper!
4. Winners will be notified by email and posted here on Mayhem.
5. If anyone gets upset or officious, I'll withdraw the competition and keep the servos - this is the first time I've done this sort of thing!
6. The judge's ("Judge Bradders") decision is final.