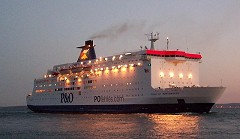 For the first time for ages I was able to leave the country on Holiday, ( England - not no not because of customs & yes I do require your sympathy !).

After a lot of "Ummming" & "Ahhhrring" I booked with Ferrysavers and got a real good deal - unfortunately it would involve 2 x 440 mile drives plus the ferry crossings. But "Hey! Three car loads of us went on holiday together, we got there first and the cheapest!" The crossing was between Portsmouth & Le Havre.

Also many thanks to Pal Tizzard purser on the Pride of Portsmouth.
Best wishes,
Martin