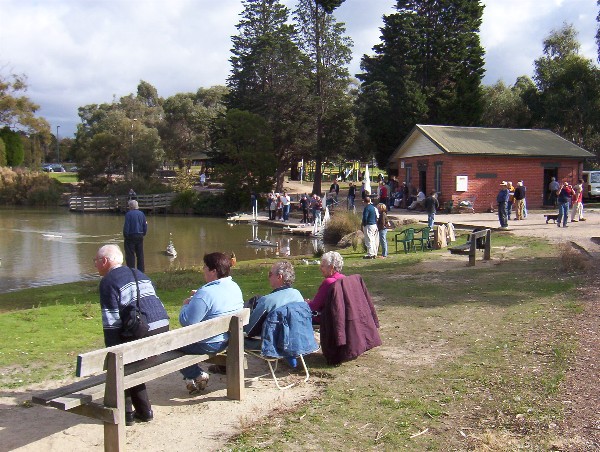 Gíday Martin
Sunday 22nd May Ď2005 was Navy day at Surrey Park Model Boat Club. What a big day fun was had by one and all (what a large turn out it was) with a large variety of Ships and Boats, all shapes, sizes and types were on hand of a look at and a sail. Hope you enjoy the pictures.
The type 21 U-boat is a modified Robbie Model, I must admit I was impressed by the size and the folding front bow diving planes, not to mention the performance in the water. I donít thing the young bloke in the picture was to impressed when I put him in front of the boat for a size comparison but his mum didnít seam to mind.
The other two U-boats went well and I was surprised at how solid they are (one of them took a fairly solid hit near the stern but a Freighter with very little damage) What a mean looking boat they are, it was properly enough to get some of the bigger commanders worried, now if only someone can work out a way of firing torpedoes.
The Lady Wooes was another visitor to the Club with a very well finished detail and performance to match, the detail on the Bow around the forward steam winch is magic.
1940ís steamer? Yes thatís right it was built in the 40ís but Les tells me that the radio is from the 1950ís, must have been state of the art back then. Who says old boats need to go on the scrap heap?