Christian Konig
My PBR
Luftwaffe Flugbetriebsboot
Hi Martin,

Here are three pictures of my latest project. It depicts a classic "Flyght"-motoryacht which seems to have been very attractive for home-builders in the 1960s. The plans for the real one sold for a few punds and construction is said to have been easy. Common tools and a garage had been preliminaries to build such a craft in real scale. But that was about it. By chance I discovered a guy in Germany who offers plans for this neat little boat and concluded on building one. The all-wood construction was easy though.

The boat carries a dummy Mercury Mark 15 outboard, but in reality I hide a small electric motor inside the cabin to combine classic looks with convenient propulsion. If any of your folks are interested in the plans, I will be glad to assist you ;-)
Propulsion: Graupner Speed 600
Scale: 1:10 (approx. 2 feet long)
Regards,
Chris König

Hi Martin,

Last weekend my XXI underwent sea trials. Before the boat could have sailed away I lost a screwdriver and my car keys in swallow water yet happily retrieved the keys after searching for a while ;-) When I finally found them, I was some sort of calmed down and did not start trials with the excitement one usually feels when testing a model boat.

The XXI depicts Oberleutnant zur See Hugo Deiring´s U 3503 that eventually sailed from Kiel bound for Norway in May 1945. After getting caught by RAF No. 86 Liberators and suffering from a close hit, Deiring headed for neutral Swedish waters. When Germany surrendered, Deiring scuttled his boat and became POW.

As far as I know the boat was raised in 1947, examined and then broke off by the Swedish navy.






U-Boot Typ XXI; "U3503" Oberleutnant zur See Hugo Deiring, Boat´s Angriffs- and Luftzielsehrohr (Periscopes) and the Schnorchel (snorkel) are up, while the boat´s aft is already partially flooded. This is how Deiring entered Swedish waters.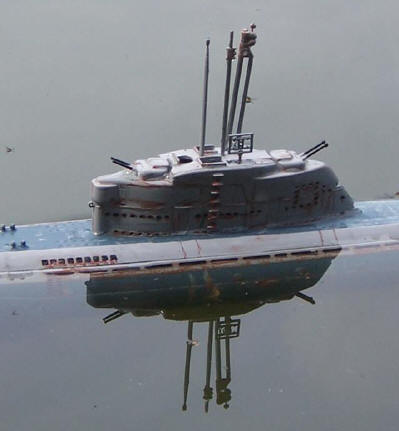 Conning tower of U 3503 with FuMo-device. Behind the forward 2 cm twin AA turret is the armoured lookout for the helmsman, while armoured lookouts for the watchmen are visible on both sides of the periscope. In this early stage of testing the boat, the antennas has not yet been installed.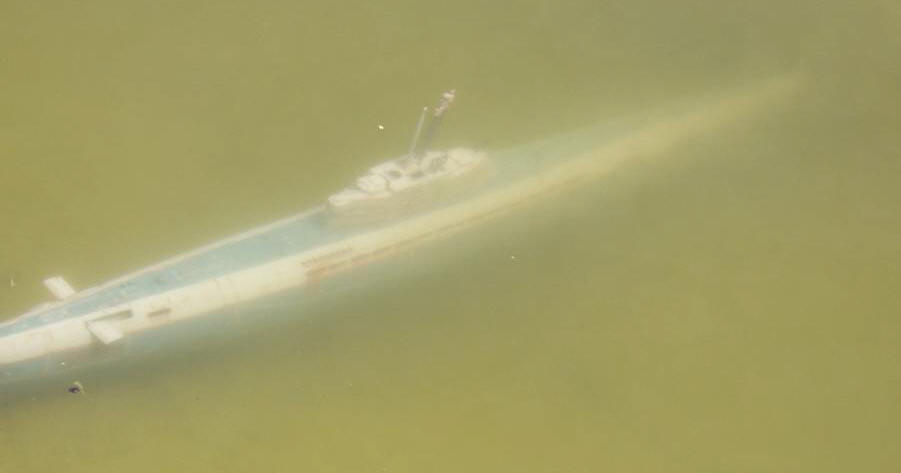 Auf Tiefe.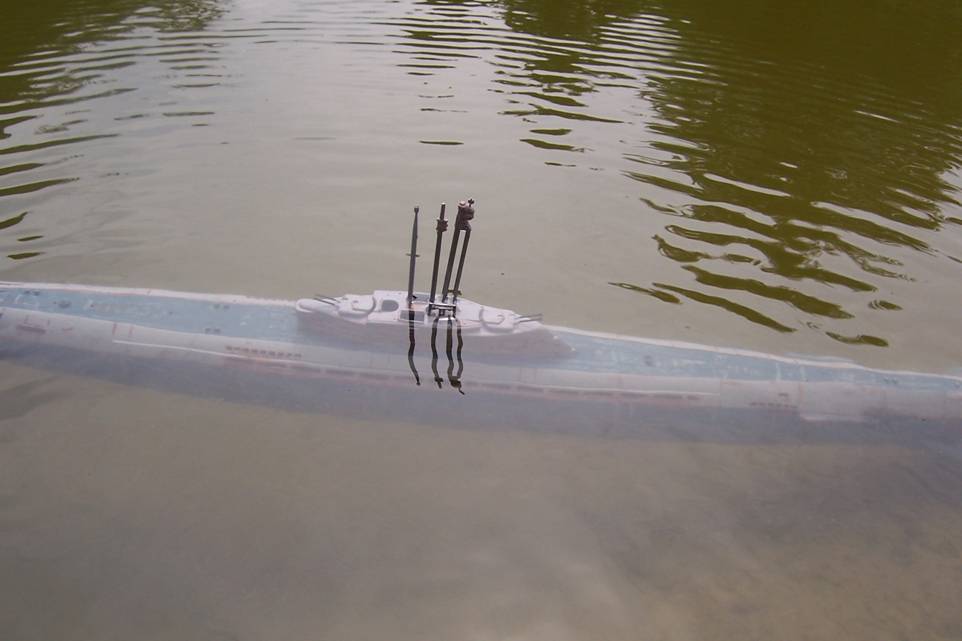 Without the engines running U 3503 comes back to the surface. My digicam is somewhat slow – originally I wanted to catch the boat surfacing with only minor proportions of the scopes and snorkel above the water.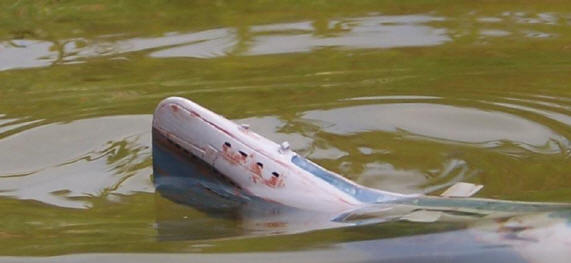 The classic approach to submerge: U 3503´s bow breaks through the surface first. The upper torpedo hatch becomes visible, while in the right section of the picture the forward planes can be seen. Within a few seconds, the tower and the upper deck will surface as well.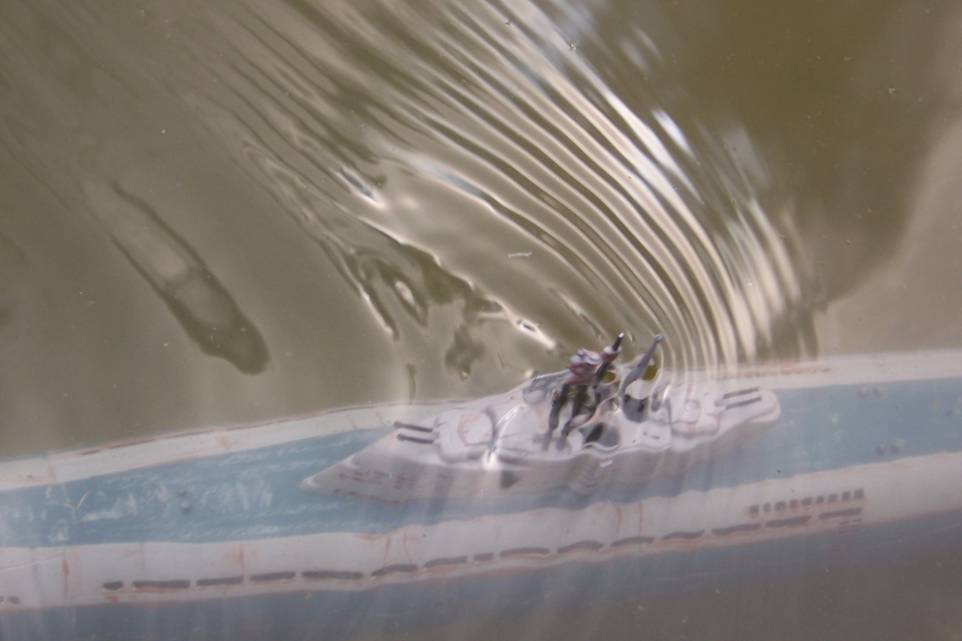 This picture was hard to get without risking the boat: normally the water is not that deep where I can stand, but it had to be deep enough to dive to get this picture. I suppose this is what a XXI would have looked for the pilots of RAF No. 86 squadron prowling the Baltics in 1945 …

Best regards,
Chris

Hallo Klaus, hello Mayhem!

Last night I went out with my German e-boat "S11" and underwent trials at a nearby pond. The model features a torpedo release mechanism and can fire one dummy torpedo. The torpedo leaves its launching tube and is propelled forward through the water for one meter or so. I experienced it extremely difficult to recover the torpedo! Even more disturbing, at some times the torpedo goes off without notice. I suppose, I will rebuild the boat without that feature ;-))

With or without a torpedo, the boat makes a rare sight at the pond, since I depicted the 1935 peacetime version of this e-boat commonly seen in 1940/41 battle dress.

Have a great day!
Chris

Once again, there are some additions for your wonderful site........

Vorpostenboot V 1305, ex. Wuppertal, ex. Albert Ballin. Commissioned by Cuxhavener Hochseefischerei AG, the ship was launched April 12, 1927, at Schiffbau-Gesellschaft "Unterweser" AG yard premises in Bremerhaven-Lehe. Propulsion was a MAN type HDoEP 2Te 6 x 425/600 diesel engine, rated at 504 HP. With the original measuring 44,60 metres in length, a beam of 7,44 metres and an average height of 4,15 metres, the vessel displaced some 278,60 tons. Used for fishing the Northsea, the ship entered Kriegsmarine service in 1939 and failed to return to port early in 1945.

The scratch built model in 1:72 scale depicts her in 1940/41 camouflage. The boat is fully operational on RC with plenty of room for batteries ;-) Building her was easy since Deutsches Schiffahrtsmuseum at Bremerhaven has original drawings. Hull and all superstructures have been constructed using plywood, with brass masts to complete her.


Regards,
Chris König - Deutsche Post AG, Dialog-Innovationen & Sonderwerbeformen (1S4)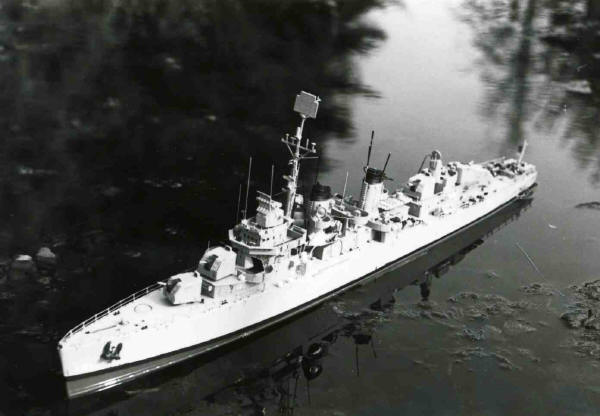 Hi, Martin,

I just discovered a picture of a model I built about a decade ago, (above). I recently sold the boat to a fellow who wanted to operate it on remote control. The ship is a Fletcher-Class destroyer, based on the famous American Lindberg-kit 70815 "USS. Melville".

The Melville is rather famous for her nickname "Blue Devil" and sells for some 80 something USD. Recently I checked out some retailers and found the kit at prices ranging from 52 up to 77 USD.

If I remember it rightly, my host parents in the US gave me this kit for Christmas in 1989, so I completed the model in around 1990. The kit was updated to resemble those Fletcher-class destroyers in German service in the 1950s ("Zerstorer Z 1") by adding brass railings, radar, self-inflating life rafts, antennas, modified weapon stations etc. Twin screws and liquid cooled engines make her a fast and stable companion. Measuring 3 ft. in length, the destroyer is quite impressive when underway.

The picture was taken in 1991 or 1992 during trials. In the end the model suffered from dust when it was set to rest. Therefore I sold it to a guy who collects German naval vessels.

Have a nice day,

Chris König

Pictures of "Eager Beaver", a semiscale 1:35 LCV of the US Navy. Scratch-built from plywood and styrene sheeting the boat looks great when underway on local ponds.

Have a great new year!
Chris König






Hi, Martin,
Enclosed please find two pictures of a Dutch Valentijn-Class lifeboat. The model depicts the lifeboat "Valentijn" (first of its class), based at Nordwijk aan Zee, call sign Papa India Delta Mike. Built in 1:22 scale the boat features a GRP-hull with styrene superstructures. The jet came from Graupner (P. P. Jet). Powered by a 600 BB Turbo series electric engine the boat was awesome to run. Early this year I donated the model to the Zeehaven Museum at Ijmuiden, Netherlands, very close to the KNRM (Koninklijke Nederlandse Redding Maatschappij – Royal Dutch Lifeboat Institution) headquarters.
Among other scratch built models, "Valentijn" was definitely my most beloved one. Building her according to official drawings took about sixteen months. Have a great day,

Hi, Martin,
Here yet another image of one of my models:

Aalschokker ARANKA, 1:22 scale, nearly four ft long, 1 ft wide, built up from GRP (scratch). The original has been built in the Netherlands in 1917 as a fishing vessel (type: Zuiderzeebotter) but later moved towards Cologne/Rhine and then onward to Bad Honnef close to Bonn. The original is still residing on the Rhine, while the model will go to a museum soon. Building her took about ten years, all winches are from brass and aluminium, and the chains used were the only parts I had to buy.

Have a great day,
Chris König
Senior Consultant - SVI Dialog Consulting

These pictures are of ANNEKE FEENSTRA (Rotterdam Port Authorities Boat No. 7), as proposed in the early 1980s. The boat was built according to Harris plans, which – as far as I know – are made from blueprints of Halmatic Ltd. Halmatic, a division of VT Group plc. (Vosper-Thornycroft) is situated at Portchester Shipyard, Portsmouth.
Halmatic re-designed the GRP-standard hull "Halmatic 65 Mark I" into a "Halmatic 65 Mk. II". Using this hull a ultra strong work boat was designed. The design consisted of the hull, welded aluminum superstructures with open bridge, powered by twin Deutz MWM TBD 604 BL6-diesels (650 kW each). Along with two Marine Disc MG507 transmissions and props the boat would have had a range of about 750 miles, while reaching awesome 21 knots in open water.
The fly bridge of this utility boat resembled patrol craft of the early eighties with only limited instruments: radar, radio and a couple of instruments fort he diesels. The boat carried a monitor and a foam pump of the Rosenbauer Foamatic-type. If Rotterdam would have ordered the boat, it would have been in duty with "Havendienst" Nr. 2, 3, 4, 7, 11 and 16. Further more it could have been used as an auxiliary boat to aid the Firebrigade´s ferry. According to Rotterdam port officials the boats would have been Christianized "Anneke Feenstra" and "Bettina van Bookhagen" , yet no contract was signed.
The model was built according to Halmatic 65-plans (United States Coast Guard-version) drawn by N.-E. Harris in 1989. Dimensions are L: 1015 mm, B: 280 mm, D: 50 mm, overall height including antennas about 400 mm. Scale is 1:22 (the same as "ARANKA" and "Valentijn").
Details include moveable radar, fully operation lighting system, search light, monitor and damn enough space for big batteries, diesel sound and further gimmicks.
The hull was scratch built of plywood and balsa, the structures of plywood. Most of the model was covered with GRP, sanded thoroughly and painted several times. Look at the images to get an impression of the details. The boat is powered by twin 8,4 Volt Speed 600 Race electric engines (Graupner), twin props and twin rudders.
The plans offer the opportunity to build another Halmatic 65 with AA-gun and a bathtub astern to carry a (RC-) zodiac. I will give that a thought, especially since 1:22 Oerlikon-AAs are a rare sight on our lakes ;-)
Have a great day,
Chris König
Senior Consultant
SVI Dialog Consulting
My PBR
Luftwaffe Flugbetriebsboot
HOME