Part 2 (and last)

My prop has arrived. I ordered a 50mm 4 blade prop from Ships and things. I have cut the shaft to length and mated it to the u-joint and the prop. A light application of white lithium grease and it is a perfect fit.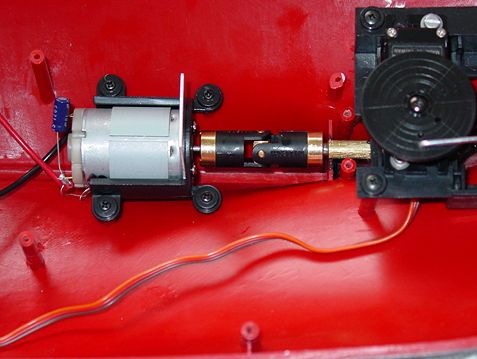 I was able to use the stock motor and mount in itís original location.

You can see from the picture of the servo above that it took me a couple of tries to drill the correct location of the steering linkage. I now have 100% travel of the ďKortĒ nozzle.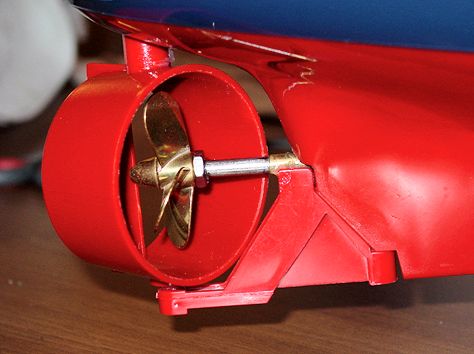 The 50mm prop is a good fit.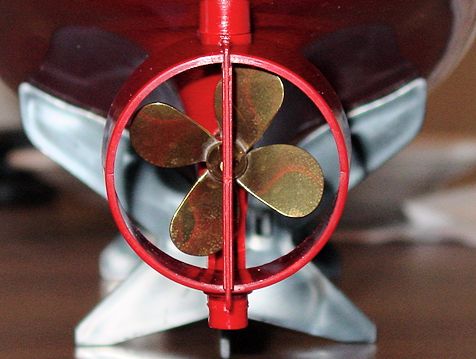 I installed the electronics under the pilot house on the main deck.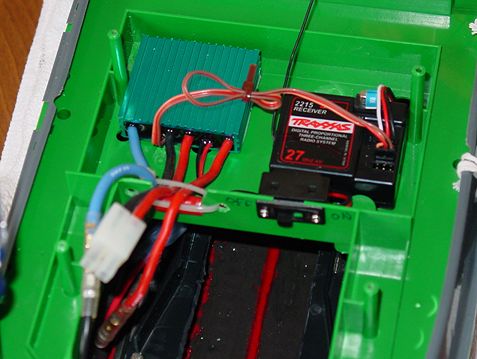 The hull is done. I hooked up the speed control and battery and ran the motor for about 30 min. An overnight float test showed that it was watertight. The battery sits in the old water well. A small piece of Velcro holds it in place. You canít see it in the pic, but there is an inline 5 amp fuse between the battery and the motor.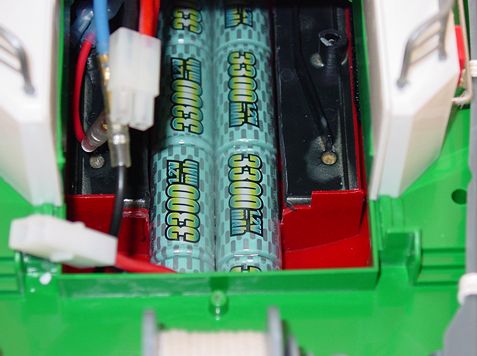 Another float test in the tub showed me that it was a bit light in the stern. I velcroíd some weight there to achieve level and to make sure the prop was under water. I reinstalled the main deck and checked all the connections. Itís a good thing my girlfriend hasnít moved in with me yet. I really like not getting a ribbing for floating a toy boat in the bathÖ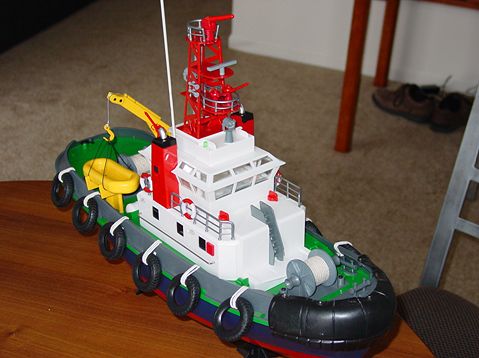 I cut the front bumper down a bit to reduce drag, finished installing the pilot house and now itís ready for spring.
Since I am working in an apartment, and itís a bit cold this time of year, I donít have a place to paint, so my Dickie will have itís launch in itís natural colours. Maybe when it warms up a bit, I can find a friends garage to repaint it in. Below is my work area (and the sailboat is the reason I wanted the tug).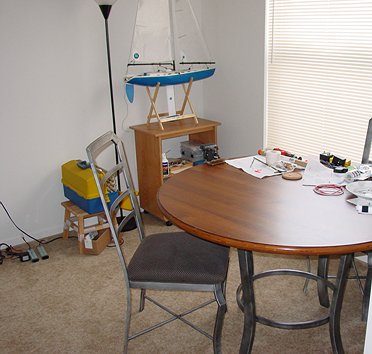 It has been a while since I did any modelling and this was kind of fun as well as re-teaching me a few tricks. (Not to mention it kept me off the streets and out of trouble for 4 or 5 weekends) Since I still have several weeks to go before spring, I ordered a Dumas Bluefish Submarine as my next project. If anyone has any hints on building or modifying the Dumas subs, I would appreciate an email.

Thanks for looking and thanks to Model Boat Mayhem for a great website and inspiration.
George.