Paul Cook - A few of my boats.....
I have attached some pictures of my latest project, its one of the Palaform hovercraft, but as you can see it has been slightly modified!!



Martin, I thought this picture might interest you, both boats are Robbe U47 conversions.


Also, I have now finished the X Craft, she is finished as X 7.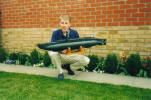 Kyosho RC surfer.
550 motor on 6 x 3000 cells, with forward only controller and rudder control.
Great fun at the beach.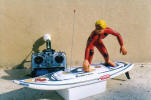 Type IX U-boat, Academy plastic kit with 3 channels and a Sub leveller
HMS Satyr - Royal navy "S" class submarine based on the Darnell kit
HMS Satyr - Royal Navy "S" Class Submarine ( Pennant number P214)

Royal navy "S" class submarine based on the Darnell kit ( Now kitted by Metcalf Mouldings)
5ft 8ins long (1-40 scale) 7 inches in beam,
14inches from keel to periscope down, 17 inches with scopes up

Working features are:-
Throttle on twin 385 motor
Rudder
Rear hydroplanes on both manual and auto control
Main compressed air ballast system
Secondary ballast blow system
Navigation lights
Morse lamp signaller
Working search & attack periscopes

Failsafe on main ballast system, with high intensity strobe in case of sinking to locate boat.
Power is supplied by 2 x 7.2 volt 2000 mAH nicads for main drive, 1 x 6 volt 2000 mAH NiCad to run compressor, 1 x 4.8 volt 2000 NiCad to run RX navigation lights & strobe.

Radio TX on all my model subs is the Robbe/Futaba FC 16 computer radio, 22 function set with 102 model memory on "CAMPAC" - this is not full you will be pleased to know!!!!

Satyr had a good war career, she survived to be scrapped after the war, was involved in "Operation Source", to bring back the X Craft after the Tirpitz attack, was never needed as none of the X Craft returned. The model was originally finished in 1992 and still sails at many shows to this day, had 4 refits during this time.

My current project is X -7, which was commanded by Lt. B.C.G. Place, who was captured - will supply you with info soon.

Paul Cook
Norwich, Norfolk, UK
www.users.waitrose.com/~paulcook