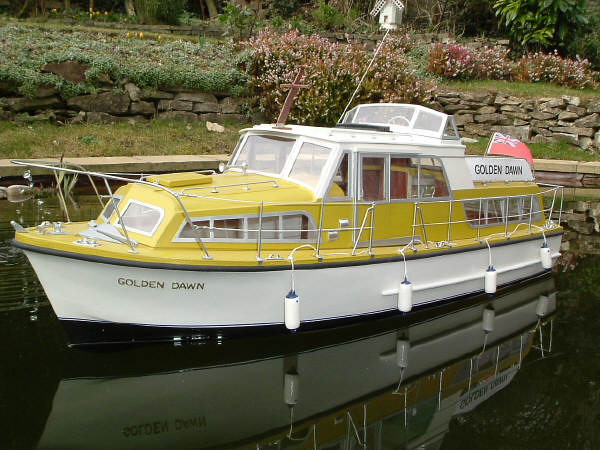 Hi Martin
Here are some pics of the Broads cruisers you saw at Warwick.

..... It was nice to make your acquaintance at last at Warwick, will recognise you next time!
I will be at the Kew Bridge Model boat show at the Steam museum on the 11th. of June supporting the Medway Queen restoration project. I shall have both the 2 latest boats with me. It would be nice to meet a fellow Broads lover.
Regards,
Ron Wem

I am sending this email and attached pictures on behalf of my Dad, Ronald Wem.

Attached are 3 pictures of some of his models "sailing" on his new garden pool.
Dad's comments are as follows

Ron's Norfolk Broads Fleet

Picture 1 - Brooms "Commander II" 1946, next Brooms "Admiral VIII" 1955, on outside Hearts Cruisers "King of Hearts" 1953.

Picture 2 - Shows rear view and includes "Arfamo II" model of my full size canal/river cruiser.

Picture 3 - Shows craft as above and Herbert Woods Yacht
"FineLady" 1946.

All models 1/12th scale scratch built from my photos and plans loaned by the builders. These are just some of my 23 models taking up space at home and Bletchley Park.

He'll will be thrilled to bits, he hasn't stopped talking about the ones on your site from the London Show!!

Love the web site by the way, how on earth do you find time to keep it so up to date and up load all those photos. I built and maintain a site for a local charity (www.familiesunitednetwork.co.uk) and know how time consuming it is. Well Done.

Thank You,
Julie Woodhouse
On behalf of Ron Wem.