Terry Rowsell
Terry's Dickie Tug Conversion - (Here)
Video of RHM TENACE (with appearances by MV MARIE)
http://www.youtube.com/watch?v=5CmaEBKc-Zg
Hi Mayhem,
I am attaching pics my French Naval Tug TENACE. It is about 90% complete. I started with her sister AMSTERDAM and modified her into her sister TENACE. There are windows where AMSTERDAM did not have them and vice versa. Also all the windows are carefully squared. The aft scuppers are totally redesigned and TENACE has a flying bridge complete with bridge wings that AMSTERDAM never had (the railings on this are not complete yet). The rigging will be completely different as well.

I also re-engineered the rudder. It is 3/5th larger and somewhat balanced. I deleted all the skeg parts as well for better wash. While some may say that it is no longer an accurate scale appearance I argue that you cannot scale down physics! I want a ship without a lazy turn. She turns in ship and 2/3rds circles!

I am interested in any info on the real ships that people may have and photos of other's models or the real things!

Navigation Lights!
Also, there seems to be a lot of people painting their port and starboard running light backboards red and green. By long standing International Maritime Law the Rules Governing the Avoidance of Collisions at Sea state specifically that the backboards "shall" be painted flat black so as to avoid a scatter of the light that may cause the light to reflect back beyond the specific 22.5 degrees abaft the beam. No real ship has for the last century any backboard painted other than flat black. If they did they would be not be granted their seaworthiness certificate. As people are striving to build accurate models perhaps they would be pleased to know this as anything other than flat black is completely against the law the world over.

Crest Fallen!
And finally, could you help me with one mystery? When I was about 7-8 years old I toured an AMAZON class frigate in Corner Brook, Newfoundland, Canada. This tour is probably why, many years later I gave up a good civilian career and joined the Canadian Navy!

The picture below, there is a ship's crest. It is not well seen but I have searched to find out which ship this was. Maybe a regular viewer of your web site can identify this ship for me.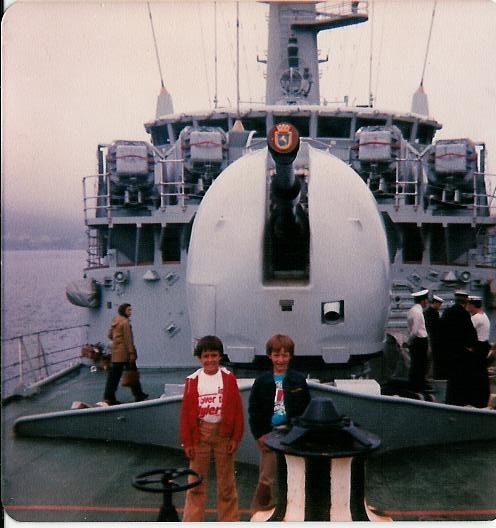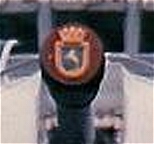 UPDATE TO CREST FALLEN

The unidentified ship I am onboard as a child was HMS ACTIVE as suggested by my new acquaintance through Mayhem, Sergio of Barcelona - who incidentally has built another Amsterdam sister RHM MALABAR, my TENACE's French naval tug sister! I also recieved an email from Jim, a retired Royal Navy Chief, who confirms the ship as ACTIVE.

So again, thanks Mayhem!

Terry

Thanks,
Your site is a constant inspiration and has been largely responsible for dragging me away from model railways! ( Thank you Terry. Now you are helping too! - Mayhem )

A/Slt. Terry Rowsell

Update December 2004
Hi Martin!

Wow, I know that you are busy but I will try again to send you the RHM TENACE launch day pics. She was launched 11 NOV 04, which in Canada is Remembrance day. Fitting really, on a day that we remember the sacrifices of our soldiers, sailors and airmen.

Of course MV MARIE motored along for the launch as well! My wife Marie Andrée and my brother John can be seen as Marie Andrée opens the sparkling apple juice for the toast (drinking in public being frowned upon!).

I am seen in one of the pics at the helm ( I'm on the left ). My friend Theo Kwantes is the other helmsman and his son Harrison is in between us.

All went VERY well and both ships handle like a charm!

Thanks for everything,
People are very welcome to email me.

Terry Rowsell - Acting Sub-Lieutenant, CANADIAN NAVY - terryrowsell@yahoo.ca

PS. Thanks Martin. You are very generous to have taken your own time and effort to build a site that is such a resource to so many!
Is there a particular type of Navy ship you like? You should look up the Canadian Navy on this link: