Andy McGarrity - Giant size!

Part 1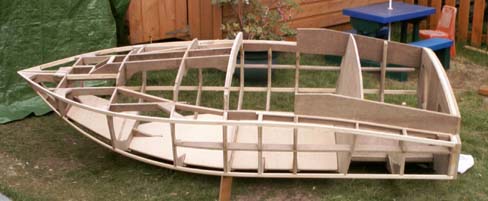 My New project.....

Hi Martin, I was wondering if you have other pictures of the LESRO Javelin. I have asked for plans and photos on model boats forum. I was sent a photocopy of a review, which has quite poor photos, but did help with extra details. My scaled up version has drifted from my original idea of using as much 'Javelin' as I could, but adapting it to take a full sized me! I have now decided to make it a 2 seater, but it doesn't look very much like a Javelin any more, it looks even more squat at 88 inches by 47 inches. I will use elements of the Javelin as I think it has a nice profile.

I did a rough pricing for my 2 man boat and I should be able to build and paint the hull for about £150.The only real cost apart from that is the drive & propeller unit which I will get my friend to make up (he works in his Dad's engineering shop) he has some very nice machinery, lathes, mills and a CNC equipment! Nice! He usually charges £30+ per hour, but likes a project. As it's going to do a 2 seater, it's going to use his Honda 8 HP engine initially. If that's not enough power in a 7 and a half foot boat, there are plenty of cheap bike engines on eBay.

Andy,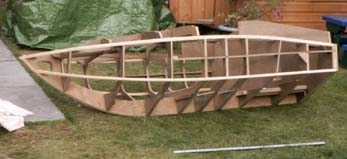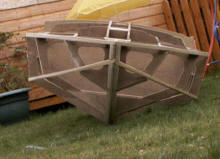 PART 2

Hi Martin, here are some pics of progress so far, before rain started. I now have a seagull outboard which will be used until my friend James gets time to work on the outdrive. I have made a remote steering system and a remote throttle. Decided to leave hatch plain until I fit inboard. The boat seats two comfortably( I have 3 inch foam for the seat and arm padding!) I will send more photos as it gets closer to being finished. I still have about 30 average sized models worth of sanding to do! And varnish and my colour scheme. Lots of fumes, luckily I am doing it outside and not in the attic, as I did with the yacht. There is the problem of insects sticking to the varnish.

Andy
Hi Martin,
Here are some photos, I checked the website and found that I am not alone, there are a lot of other nutters out there! I will send some photos of my other projects as well, I built a shark fin about 2 feet high which looks very realistic, it suffered from overheating due to the compact radio and motor layout and too big a prop. I want to do a 4 foot high one that plays the Jaws tune! Hope you like Amy. I will contact you again soon, its good to talk to another modeller as my wife does not have any interest in me stuff!
Keep on building, Andy M
Any was was an interesting project that cost less to build than a lot of models do! I still have all my patterns and 400 jpegs available if anybody out there fancies building one!
Mary Jane is 54" long 17" beam and has golf trolley drive system which gives about two hours at full speed. She is to 1:16 scale and has a bar in the forward cabin. Window glazing was going to be a big job and I had tried to cut glass to the correct shape, then a brainwave came to me .....CD cases! They cut easily, are cheap and easy to get hold of. Mary Jane was also modified from a Vic Smeed design. Anna was the original Vic Smeed Starlet, again modified to accept my home made winch system which was a project in itself!

The other boats are Cat, an electric catamaran, powered by torpedo 850 +12volts.
Shark fin is 540 powered ,7.2 volts. I have Q time movies of it running, I had my niece thinking there was a shark in the local river!
The Jet Bike top was entirely from blue foam, including driver and passenger. It sits on a fibreglass hull and has had torpedo 850 motor setup fitted.

Sorry for deluge of photos, thanks again ,Andy Mcgarrity.
(No problem at all - Thanks for sending them in - Mayhem )
Ps all of these and more are for sale if anyone is interested.

Here are some pictures of smaller projects I have built.