Paddler Day - September 2008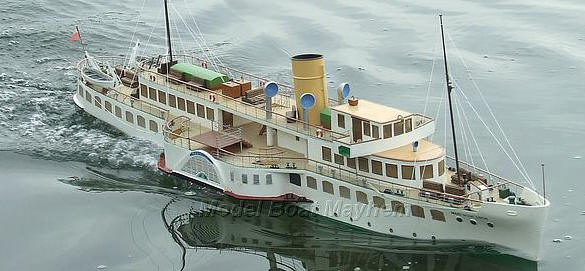 The day started at 7am for me, off to the club to help with all the bits and pieces that needed doing ready for the visitors to arrive....

When I got there, Walter Snowdon and Geoff Fish, were already getting on with things - So, to get the priorities right, I put the kettle on for a cuppa.... I don't even get started until I've had at least three cups of tea, but I think the others appreciated it none the less

Over the course of the next hour, most of our club members who had agreed (or been press ganged), into various jobs arrived, and things really got into full swing. By about 8:30am everything was ready. Visitors started to arrive from 9am onwards.... Just to show the commitment of some of the Paddler guys, we had guests who had made the effort to travel from Knightswood MBC in Glasgow with their superb 7ft plus model of the Talisman, Andrew Gray and Peter Sneddon from Edinburgh MBC with Sir William Wallace and the sternwheeler Southern Belle, and without doubt the furthest travelled was Hans Freund (scotfriend) Jorg and Daniel who had even resorted to buying a Transit van to transport all their models from Germany and Switzerland! Who could ask for more?

Whilst an event such as this is never going to attract hundreds of people, a good turnout was apparent. Although I didn't count them, I would think that we had 60 people turn up, most of whom were there with models to sail or display. Some of them had travelled a significant distance as explained above. Some had even arranged an overnight stay in local B&B's so they would be there bright and early!

At this point, special thanks should be given to everyone from Darlington & District MBC, who did a sterling job in making sure everything ran smoothly throughout the day - Far too many people to name individually, and even if I did, I'd be certain to miss someone and cause offence! Bit two (none club members) do deserve a mention, namely Sue and Nicola, who made sure everyone was fed and watered throughout the day. Thank you ladies!!

The day was designed to be as light hearted as possible, with no competitions, or anything like that. Just a day for people who love paddlers to get together and have a pleasant days sailing with likeminded people. A few buoys had been laid out to give something to steer around, but that was about as close as it got to any sort of competition! Fortunately, the weather was glorious.... Fine, dry and warm, with just a very light breeze - Perfect paddler weather!!

Everyone got on extremely well, and the range of paddler conversation was unbelievable. But with guests from England, Scotland, Germany, and Switzerland, and models of Scottish, English, American, German, French, Australian, African, and Swiss paddlers, there was certainly something to interest most people. Everyone I spoke to said that they enjoyed the day, so we must have got something right! But of course we're always open to suggestions when it comes to improving future shows!

During the day, everyone was given a voting slip, to vote for what they considered "The best model on the water". This was extremely closely contested, and only one vote separated no less than four different models! At 4pm, Ian Archibald (our club secretary) made the presentation. The trophy, a book and a DVD was won by Sandy Thomson of Tynemouth MBC for his superb model of the Jeanie Deans. A second prize, for "Best steam powered model on the water" was won by Peter Massey for his model of the sternwheeler Cliff W Blackstaff...... Ian continued to thank all the Darlington guys for their help and support, and just as he was coming to a close, Hans Freund (scotfriend), from Switzerland suddenly stood up and asked if he could say a few words....

Hans started by reminding me of a calendar he had sent me late last year - Hans works for the BMW-Sauber F1 team, and he had sent me one of their F1 calendars. It had to be the biggest damned calendar I'd ever seen, and I said as much to him..... He then said something along the lines of "The Swiss only do BIG"! At that point, Daniel got up and handed me the largest Toblerone (Swiss chocolate bar) I've ever come across! It was Hans' way of saying thank you for all the effort I'd put in to the Paddler Day - Needless to say I'm not the only one involved, it's a team effort, but his gesture was definitely appreciated. I couldn't stop laughing! So a sincere thank you to Hans, Jorg and Daniel!

At that point, most people started to say their goodbyes and leave - Thankfully everyone seemed to be smiling, so it must have been okay? Walter Snowdon and I were the last to leave after locking up for the night - It was 7:30pm when I got home, tired but happy...

So anyway, did the day go well? You bet your life it did!.... Will we do it again for a third year? Just try and stop us!

Finally, a huge thank you to everyone that turned up, and made it such a pleasant event. We hope to see everyone again next year, and maybe a few new people as well? And for those that couldn't attend, I hope the photographs will give just a small "flavour" of the proceedings....
Eddie Mathews.