Your Glow engine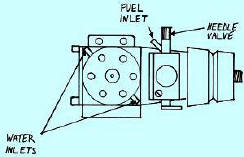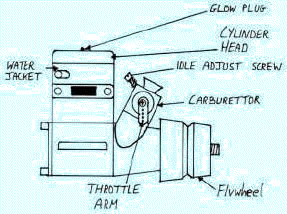 This is the basic layout of your 2 stroke IC glow engine . There are other configurations of glow engines but the labelled parts all to the same job. If you feel brave, you should strip down a new engine to check for sward and other manufacturing debris. I striped down my last brand new engine and was surprised how much swarf was in there! Clean the swarf out with an air duster (be careful of you eyes) or with a piece of wood, BUT MAKE SURE YOU DON'T SCRATCH THE PISTON OR LINER SURFACES AND DON'T FORCE ANYTHING. While working on the boat it's a good idea to block the carburettor, exhaust port and plug hole to prevent dust and debris entering the engine.

There are few specifically designed model marine engines, Rossi &CMB come to mind but most are adapted from model aeroplane use. Adoption for the most part only requires the addition of a water cooled cylinder head and a flywheel. All engines turn the propeller ANTI-CLOCKWISE (excluding the K&B outboards which actually does runs clockwise but as is mounted upside down on an and the drive taken from the wrong end, it is in effect running anti-clockwise.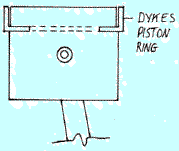 Glow engines can be split into two sub-groups, those with piston rings - Ringed engines, and those without; ABC engines. Ringed engines use a piston ring to seal the piston against liner, an ABC engine uses a very tight fitting piston and liner combination which increases the compression ratio and thus the power output. Ringed engines are well suited to sports boats as they are built for a long and reliable life. An ABC engine will be significantly faster and more powerful than the equivalent size ringed version but as it is built to deliver maximum power you may find that parts tend wear out or have a shorter life expectancy. ABC engines can be more temperamental while setting up, not good on your first boat. Don't get me wrong ABC engines work well in sports boats and are reliable but they liked to run at high revs and most prefer the use of a tuned pipe exhaust. Sport boats need good control at both low and high speeds and a long tuned pipe can be difficult to hide inside a small plastic speed boat.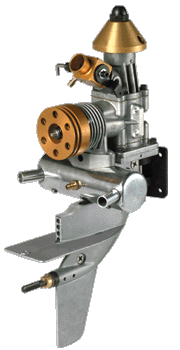 Another feature of glow engines are the drive shaft bearings. Plain bearings inhibit the engines overall speed but make the engine cheaper, ball bearings need more maintenance and are subject to failure but make for faster and smoother glow engines.
Carburettors



IC engine runs on a mixture of fuel and air. These are controlled by a needle valve for the fuel and a throttle for the air both contained in a carburettor, (carb for short). The throttle is connected to a servo and varies the engine speed by varying the amount of air and fuel ( and the ratio of fuel and air ) reaching the engine. The needle valve is on a thread and click or rubber holder/stop and the fuel flow is adjusted manually. The needle valve can be a very tricky to adjust correctly, in most cases half a turn is usually the difference between too much and too little fuel. Too much fuel and the engine is said to be running 'rich', too little and the engine runs 'lean'. Running rich will splash lots of oil around the engine providing better lubrication but the slows the engine down, running lean will increase the revs but make the engine more prone to stalling. If the engine is run too rich and the engine will flood, if it's run too lean could cause the engine to over rev and damage itself. Finding the right balance is called "tweaking" but this involves more than just fooling around with the needle valve, more about tweaking later once we've got the boat on the water.
Most carbs have a stop screw which sets how far the throttle can be closed. Some modellers set the carb so that at full back on the Tx stick puts the engine into idle, this means you can't accidentally stall the engine in the middle of the lake. I set up my carbs so that at full back on the Tx stick completely closes the throttle. In case of a panic attack the engine can be stalled instantly if required, idle is achieved by using the trim on the transmitter. Some of the better radios have a two position neutral on the throttle lever, i.e. 50%, or 20% of the sticks movement. On IC boats I set the neutral to 20% and use the greater forward movement for speed control and the small back movement to stop the engine.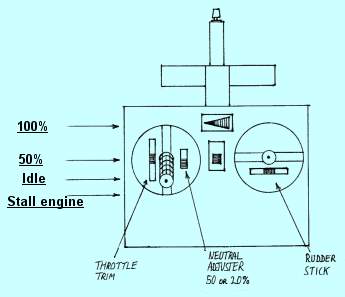 More info on carbs & setting up engines...
www.rcnitro.com/articles/carburetor.asp
www.rcnitro.com/rn/articles/super_tune.asp
www.rccaraction.com/rc/articles/engine_start.asp
GLOW PLUGS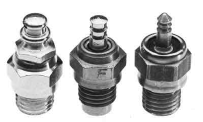 Your engine will need a glow plug, your model shop will readily recommend a good one for your engine. These blow from time to time so buy a few spares as well. I tried several different types but have not found much difference between them but the races people can tell a good plug from a poor one. Price is not a very good guide as the most expensive plugs are intended for race use and may not last long. I only replace plugs when they stop glowing!?! Plugs need 1.5 volts while starting the engine.
Also have a look at....
www.ic-online.co.uk/glow1.htm
www.rcnitro.com/rn/articles/glowplugs.asp
Well all of this is just my opinion, but what do I know!