Jason Pilgrim
http://www.magpieyachts.com/
Banckert Magpie 2 Other Yachts Pondie U.47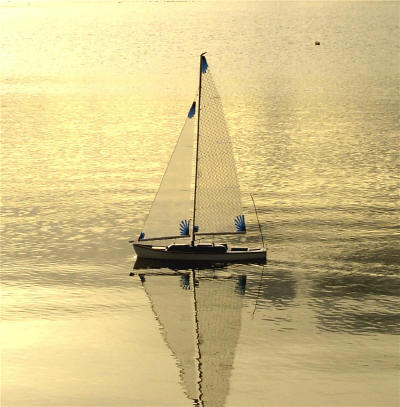 Hi everyone,
Model boat building has become my main hobby and I get a lot out of it. It only started about a year ago. I had a couple of RC yachts (IOMs) that I raced for a while but itís come back to the building and playing around at the pond with the end result that I love the most.

My first attempt was a kit (Victor) of an ďAmerica 3Ē that I did for my Nephewís birthday. It went OK but the trouble was, he didnít want to sail it, so itís for sale.

Pearl Lugger

My next build was the Pearl Lugger. This took me about 2-3 months, pretty much full-time, and I enjoyed it immensely! I think the hardest part of the job was pouring the lead ballast in the bathtub. That took most of a day with the BBQ. Set up next to the bath and lots of sweat and swearing, but came up OK. (She floats fairly level now). I initially built it with a big motor and gearbox, ESC, receiver, etc and a Hitec sail servo to control the 5 sails. This was OK until a very windy day at the lake when I had some PWDs from Scope (people with disabilities) out for a sail and the sails were kept sheeted in for the whole time, including during full knock-downs with the sails in the water. It eventually cooked itís self and the wiring. Luckily the ESC (speed controller) and receiver were OK. I replaced the winch with an RMG Smart Winch, which cost an arm and a leg, but was worth it. Sheís a dream to sail and motor now.

Footy

My other building attempt was a ĎFootyí. (A one-foot long yacht design from New Zealand). I did that one for a bit of fun and it was. It took about a week to build from the bare hull and plans. (Didnít come with anything else). It made a great ornament, but itís sailing abilities were limited due to itís length. I was browsing e-bay one night and thought Iíd see how much interest there was in ĎFootysí. It was sold within twenty minutes of the add being posted!
'Magpie 90'

Just thought Iíd send an up-date on my building of late. I decided to put the Belfast on hold for a while and do a couple of motor sailors (90 x 30 x 15cm deep) for my disabled Scope client friends to sail.

They need to be shallow as the water at Surrey Park gets a bit that way. I built the hull from scratch using a trial drawing program to make the plans. (Iím planning to buy it later) Iím using a second hand IOM (1 metre) B rig that I had in the wardrobe, for the sailing and Iíll make a copy of it for the second boat. I marked the stations on the MDF and cut them out and fitted them to a building board. I then glassed it and faired it all up with bog and flowcoat. I then removed all the MDF and stuff from the inside and added a few extra bits of glass for strength and then melted 5 kg of lead into the keel (I tested the weight requirement first in the bath) before glassing over that. Iím now ready to fit the prop shaft, rudder etc. I also made a mould off it so Iíll be able to make a sister ship once this one hits the water. (Assuming it sails OK). Iíve bought all the gear ready to go in it. An RMG smart winch, motor & shaft/prop, waterproof Speed control etc, (now broke) and Iím raring to go on and finish it as soon as I can. Itís been a fun build so far, and itís my first scratch job, so Iím very proud of it!

I've named it 'Magpie 90'. The design that is. The boat and it's sister will be called Magpie and Magpie 2 respectively. I once sailed on a similar yacht with that name and it stuck in my mind. I've finished the cabin and deck now and I'm in the process of making a mould of it to go with the hull mould. Once that's done, I can get on with the finishing touches. This boat is a fairly heavy version and will hopefully be a good strong wind sailor. I'm planning to make the sequel boat a light racier version with less ballast and a minimal fit-out. I'll leave out the motor and shaft etc. It can always go in later if I want. This will hopefully give me a suitable boat for all weather and should be fun. I really am enjoying this as it's my first scratch build. Well worth the extra work!

She's finally finished and sailing, apart from some minor adjustments and touch ups. I took her down to the local lake today (22 June 05) for her first sail and was quite happy with the performance. The rig needs adjusting forward a bit as she's displaying a bit of weather helm (rounds up when steering is free). I'll also put some long black windows on the cabin sides and a few other little things like the tiller and helmsman etc, but she's basically done. It's now time to start planning the sequel boat to keep her company. ('It's' a 'She' now that she's had her feet wet).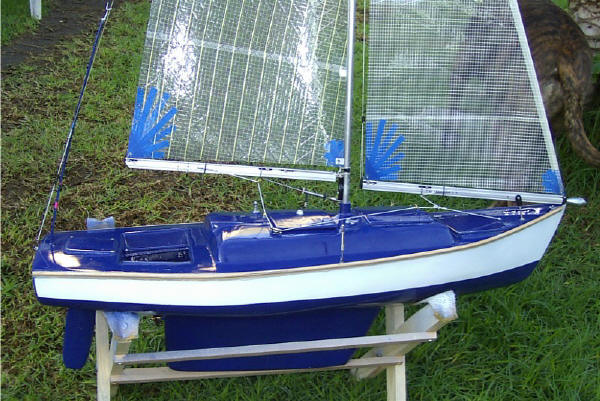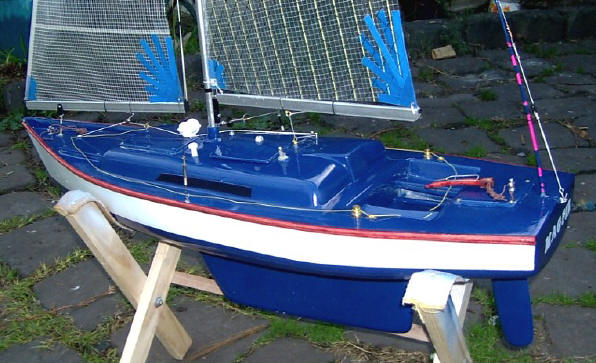 Regards
Jason Pilgrim - Surrey Park Model Boat Club - SPMBC - Australia