Paul Holman -


HM Submarine TALLYHO.

Part 1
Update May 2004

Hi Mayhem<
It's finally finished, after many alterations & modifications, several floods & 6 months on the shelf being ignored, Tallyho got her first bit of sea time last Sunday. All went well & only a few minor ballast alterations are required.


What next? Kursk if I can get some drawings or a hull.
All the best, Paul Holman
BUILD
I've always liked the menacing lines of the British T Class sub's of WWII, so when I was put on to an old Darnell hull by fellow submariner & Norwich MBC member Geoff Johnson, I had to give it a go.

Although not my first sub ( HM Submarine Graph, based on a Robbe U47 kit ), this would require a lot more work, and would give me the opportunity to build an improved static dive system. I decided to base my model on Tallyho after reading about her illustrious war career in the far East, & her subsequent exploits post war.

Basic Hull.


At this point all that has been done is the installation of the rear planes & rudder, the first major job was to decide on the internal layout, & install the ballast system.

Aft Water Tight Compartment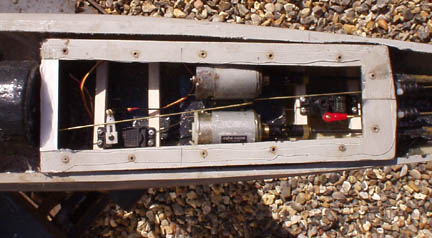 On the original Darnell model, the WTC is one piece, after speaking to various people "in the Know" I decided to split mine in two & put the Ballast tank in the center, the lid is Perspex on a Silicon Gasket. This compartment will now hold ESC, Rear plane & rudder servos.

Forward Water Tight Compartment

In this compartment I decided to install the main drive batteries, RX (4 ch'), and the ballast pump (Car Washer pump), this is powered (12v from battery in wet compartment in bow) by two micro switches on a cam, when this cam is in neutral it nips the water feed pipe to slow the release of pressurized air into the ballast tank. This air is stored in an aerosol can in the bow when water is pumped into the tank.
Should all power be lost whilst submerged, the water will be slowly pushed out and HOPEFULLY bring her up.

Ballast tank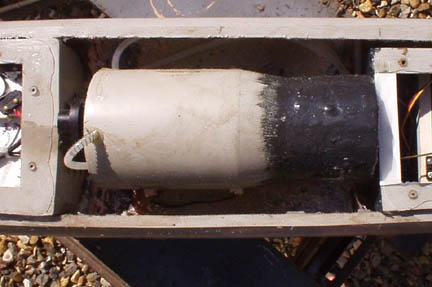 The ballast tank is the original Darnell one, but it has been reduced by approx' 75mm, it holds just over 1 litre of water, the pipe at the top vents the air expel by the incoming water, into the can in the bow, at 12 volts the pump fills this tank in 45 seconds.