Greetings Martin,
After viewing your web site in its entirety I decided to contribute some photos of a model I am sure will interest your UK viewers. Unfortunately I am not the builder, that honour goes to a friend of mine STEVE MARTIN currently residing in Nanaimo British Columbia. Steve is a retired Canadian Forces Warrant Officer who builds British and Canadian warship models exclusively.

When I first met Steve and saw his models for myself I was a little intimidated as he is a " master modeller " . His workmanship is superb and he scratch builds all of his models. I have permission to forward these photos to you.
John Calin - ( See my boats Here )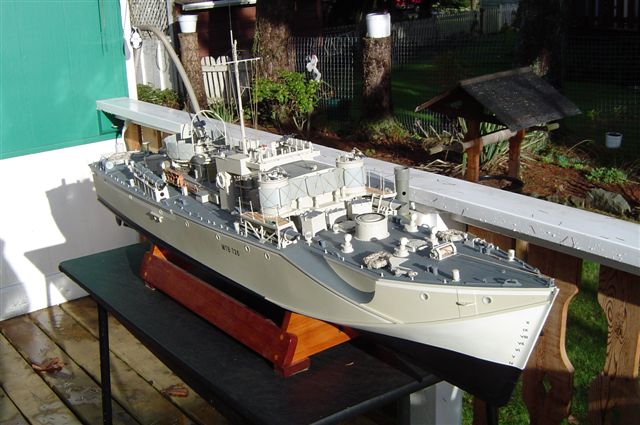 The Fairmile D is 1/24 scale, measuring 57 inches.
What makes this model interesting, quite apart from the fact that it is a Fairmile D MTB (and it's a fantastic build?!? - Mayhem), is the power plant. Steve originally installed a single motor but found it to be underpowered. His replacement motor was tested only days ago and seems to work great. That motor was taken from a 12Volt rechargeable weed eater purchased at a local hardware store for $40.00 Cdn, including the battery and charger. Steve advises me that he did not require any suppressors on the motor. I have seen the model on the water and it travels at a scale speed. The brass item is a V shaped reinforcement rather than a full bulkhead. Steve keeps everything as light as possible, and this is area where vibration is peaked .
Steve is currently working on rebuilding his HMCS Ontario, an ex British cruiser .

Cheers from Canada,
John Callin. ( See my boats Here )