Me - "But what do I know!"

"I havenít been building boats for decades like some modellers seem to have been, I can only claim a few years modelling, therefore Iím aiming this series of articles towards new comers and younger modellers. Over a series of web pages, I will review lots of boat kits, how they went together, how they ran, what modifications are possible & / or necessary and most importantly how to make them go faster without breaking the bank.!
"M
y name is
Guy Bagley
and I am a Modelholic
!
"

"I am a boat modeller of 15 yrs and now have some 8 models in my collection, tugs to trawlers, subs to sailboats, all scales all shapes and sizes. here are some of my models..."


Alan C
-
"She who must be obeyed" is not happy!


As you can see by the photo's the bedroom is also my workshop.... which is OK for now and then, well, I'm not sure!! - "she who must be obeyed" is not happy!
Andy
- "
I also build model lifeboats to commission"


A rightly proud Andy Iannetta with his Trent class lifeboat
Andy McGarrity
- Worlds biggest model sail boat?


I checked the website and found that I am not alone, there are a lot of other nutters out there!
Andrew wright
- "
very pleased with the moulding"


I got the hull from Kingston mouldings on Monday, have only marked out the drain ports up to now, hope to get the beam shelf fitted for the deck to sit on, in the next few days, am very pleased with the moulding, very good quality and accurately trimmed
Arthur Reynolds - "I do not build from kits!"


Last year when the ship was on exhibition a representative of Stolt Line came from London to photograph the model and apart from the actual builders this was the only other known model in existence.
Ashley Needham - "48 spiffing imperial inches"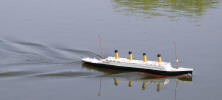 ....what I like to refer to as "The Glyn Guest style" after the chap who writes for model boats making stand-off scale boats with flat bottoms and square sides.
Ben -
"...much to the wife's dismay!!"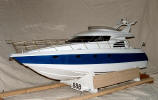 A nice looking boat which has provided enjoyment and headaches, and might just be the start of my "scale" path in the hobby- much to the wife's dismay!!

Bob -
Miniature Scale Scratch Building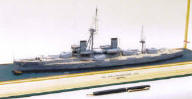 "When I began model shipbuilding many years ago, it was to the commonly used scale of eight feet to one inch. I considered that smaller scales would result in inferior and less-detailed models... but I proved myself wrong!"


I started this project several years ago and until I acquired the engine (in kit form) it just sat on a shelf collecting dust.
Brian -
ďWe hang oot in Geordie Land......
Ye nar in Nuwcasule on Tyne"


! am now into month 19 building from scratch a 1840 12 gun man of war Brig....in 24th scale - my first Boat / Ship.
Brian Philips - My wife carol says their is no hope for me!
"


A few new pics for you to see of Eldergarth now she's finished.
Colin East - A 2nd & a 6th!


The first picture is my Loyal Class Tender from Model Slipway that I built an have entered several competitions, the last word Champs in August this year were I came 6th.
Dave Milburn-
Ďcos there wasnít such a thing!


Coastal Puffer in tiny scale A puffer seemed an obvious choice because of its relatively large displacement c/w overall size, and also because I could add various scale-ish bits and pieces without reference to a definitive ďtypeĒ.
Dick Hopper -
Pics show her in my test-tank (family allowed to swim when not testing)

I'm nearing completion of Pretoria Castle at 1/96 scale, I guess some 2 months left to paint and admit 100 odd 1960's era passengers, derricks, and then sea trials. Northern Star berthed nearby at model of captain Cook wharf, Auckland, though of course Castle liners didnt call here, save in wartime for troop embarkations.
David Webb
- "....WELL I AM RETIRED."


The siren is rated at 110 decibels, Turbine sound at about 90 decibels and the Guns at about 50 decibels !!!
Dick Hopper -
Greetings from the South Pacific..........


A progress pic. on the Pretoria Castle, at 1/96 scale, some 7ft long requiring 30kg of ballast. Started Jan.05, likely finish end 05. Drilling 300 portholes was so exciting.......
Eddie Mathews - ".EXPLOSIVE combination! "


I've been looking for a sailing boat for some time, but never really fancied a normal yacht, they just aren't my thing! :-) After searching the web I eventually found a boat that I liked, a Bristol channel pilot cutter.
Eric McNaught -
This was built literally on the kitchen table!


The kit is very good, comes with full fittings kit, and ABS two piece hull, which although feels a little fragile to touch, is tough enough. The wood parts are superb, and this was a big bonus to me, as I do not have the benefit of a fully fitted workshop. All plywood is precisely laser cut, and popped out of the sheeting with the minimum of fuss and finishing.
Feancis Fearn - Tugboat skipper wanna-be!


6 Channels and 3 video cameras.
Geoff - "I have just a

Penchant

for steam!"



"She looks good both on, & off the water with a good standard of detail"
George Harmon -
Dickie Tug Conversion

"I guess I could have bought an Atlantic Tug for $250.00 but where is the fun in that?"
George Mc Aulay's - Imara


Imara
Graham Voss - "No problem!! Barbie to the rescue!"


" I told them then that an aircraft never dies and would live on one day in another form. All over the kitchen table went the bits and the Barbie boat. Within 2 evenings Radio controlled Barbie Mk1 was built. "

Grahame - "Had to buy a all a dealers stock.....3000 of them!!"


I was attracted to this tug as a model subject as the full size one had been fitted with a bow thruster, and I wished to try my hand at building a model thruster.



My name is Graham Walker, yet another modelholic, this time hailing from Manchester.
I have just completed the Gry Maritha, the Scilly Isles supply ferry from the excellent Model Slipway range - PHOTOS ATTACHED.


Over the last fifteen years or so I have constructed several scaled (1:50) model tall ships among them being The Charles W Morgan, The Great Harry, Thermopylae and The Pandora. They were all built from kits purchased from model shops and they were for display purposes only. None of them were built to sail. As this is the last time I shall ever build another model tall ship I have decided to make The Charles W Morgan again but with a significant difference.


Graupner Southampton / Weyforce and other boats
Jan Arild Aarseth - Sending over some photos of my model boat....


Powered with el-motor with reduction gear. 7,2 Volt
James - Took to the pond for initial sail and dropped it? one bent shaft, #@$%£ !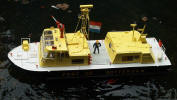 Finally completed my Vosper sidewall hovercraft in Dutch Fire and Rescue version. Made from photos and publicity leaflets and some imagination.
Jason - It went OK, but the trouble was, he didnít want to sail it, so itís for sale.


Model boat building has become my main hobby and I get a lot out of it. It only started about a year ago.....
Jim Cowels - I've not had a day out of the pub because of it!


... I did manage to complete it by doing all the rigging with a broken shoulder (now that's dedication) - but only due to all the special medicine I was able to get down - luckily my drinking arm was undamaged!
Jan Spoelstra - Big and Powerful!


It's an 10% enlarged Screwdriver, designed by P. Simmons.
The plan has been drawn after the GRF original, so there 's room for interpretation.


Now being a complete Pratt I took up the challenge and rather stupidly decided to build a scale model of a Fairmile MTB. It took me about a year to build, as I am one of these twits who insist that it must be exactly right.

John Richardson - "I have been enjoying model boats for 60+ years .."


Around the Christmas holiday I felt like a break from the demanding work in steel and alloys and thoughts returned to the ' Egrete ' a Rhine pusher, which I believe is one of two pursuing it's trade today.
Joseph Propati - HMS Victory. "The hull alone is about 70" long."

I am building a large scale version of the HMS Victory. The hull alone is about 70" long.
I am going to make it Radio controlled and have some framing pictures so far.


Built in 1912 by Messers Simson Strickland & Co. the Victoria epitomises the era of steam at the beginning of the 20th Century with the enclosed cockpit and open deck to show the steam plant in all its glory.


This is the first time I build a model made of wood, it is allot of work, but I enjoyed a lot, it is not finish I'm still working on the final details.
Ken - "G'day 'cobbers!'"


"The Voith system affords a degree of control superior to most others, but in terms of propeller efficiency the cyclical unit does not compare favourably with those based on the screw propeller."

Kevin Mortimer - 'Altogether a very good kit, highly manoeuvrable'.


There are 13 working lights wired using dolls house wire very fine and ideal for feeding through narrow tubing .the top radar dome was borrowed from an old PBR.



I had a hull , being 32 centimetres length, 9 centimetres beam with a designed draft of 4 centimetres in the middle of the hull. As I'm a kind of a scrooge , there was no place for "High-tech" mini electronic stuff , I wanted to use regular servo's , receiver , speed controller and engine.

Larry Bulduc and Jocelyn Taylor - Be gentle...our first tug. :-)


We built this tug at our kitchen table. It was the first kit we've done like this. We've done other boats in the past such as fast offshore electrics, nitro boats and 2 stroke gas boats but never a build like this.


Within the space of 3 seconds, half the contents of the bath had exploded out all over the idiot standing at the back holding the radio!


This is the latest of the lighthouse build pics and of course, Cullen checking it out...When did he get the ATV? I'm gonna have to check my pocket change to see if he's been pilfering it when I'm asleep.
Malcolm - "Gytha is a short, tubby, cheerful, capable witch. "


All of 13" long, she is fitted with 2 channel radio control using standard size parts. As someone once said - "It's a bit snug in there".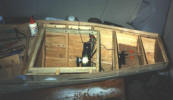 Details to follow

In all, I am impressed by the quality of the build, a Very good model, but could do better,


This Model has taken the best part of two years to complete, between studying at Nottingham Trent University.


"Willit" is a diesel tug built from what looks to me like a vac-formed kit with a scratch-built superstructure, does anyone know which kit, and does anyone have pictures of another one?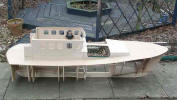 My wife thinks that I have finally lost my marbles as after 30 years of marriage this will be the largest model I have built


At work a few of my colleagues have got radio controlled boats, as I already have a radio controlled 4 Wheel Drive Buggy I decide to get a Carlson Tug.

Failsafe on main ballast system, with high intensity strobe in case of sinking to locate boat. Power is supplied by 2 x 7.2 volt 2000 mAH nicads for main drive, 1 x 6 volt 2000 mAH NiCad to run compressor, 1 x 4.8 volt 2000 NiCad to run RX navigation lights & strobe.
Paul Holman - "I hope to put a Wasp on the flight deck....!"


I have based her layout & paint job, to depict her as she was during my time aboard. The exclusion of Pennant numbers is intentional, we painted them out before leaving for the Falklands in 1984.
Paul Lali - "At my age, spelling and grammar is optional....!"


It is made by "Vac-U-Boat" as a simple kit for beginning modellers. It's a sort of generic, semi-scale model of a harbour tug, very simple and easy to build. If you can get your shoes on the right feet at least half the time, you can build this boat with no problems at all.
Pete - "How hard can it be?!"


Pete builds a Dean's Marine Kompact Puffer.


My model is based on the old Graupner kit of the German fast patrol boat Wiesel modified to be the Turkish version Kartal
Raymond Gawthorne - It sure was nice to see my Fathers eye's light up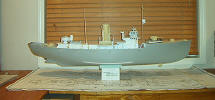 This is a Canadian Flower Class Corvette, the HMCS Chicoutimi K156. This is a replica of the ship my Father was on in WWII. My Father is still alive today and is 81 years old. It sure was nice to see my Fathers eye's light up the further and further that I got done on the ship.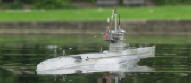 Well I fancied a bit of a break from gluing bits of wood together on the bridge of the Ben Ain so I went out and got myself a kit that I have fancied ever since it came out and that is the Revel 1/72nd U-Boat. I also fancied a bit of plastic modelling, which I have not done now for a long time.


The project took about 6 months to complete and was finished around May/June, just in time to show it off at the local pond.


This is my first attempt at model boat building. I decided to purchase a cheap static plastic kit and experiment with R/C fittings. I found that I had made a difficult job for myself as the model is only 69cm long and everything had to be micro size.


...while playing a childrenís sing along C/D, for my 20 month old Grandson, the Rubber Ducky song came on and so did a light bulb over my head. I had to have an RC rubber Ducky! Not just another Rubber Ducky but one with a sound system in it.


All models 1/12th scale scratch built from my photos and plans loaned by the builders. These are just some of my 23 models taking up space at home and Bletchley Park.


I have built a pulsing smoke generator with a miniature air generator To give me the smoke effect I needed via the exhaust pipe. Being my first real model boat project I haven't done bad at all.
Shane - "I couldn't believe how realistic she really looked".

I bought the boat from my friend for £20.00. I've always wanted to make a war ship but most of the war ships in kit form are so expensive. She is fitted with a 540 motor and just the 2 channel R/C in it. If money had allowed, I would have loved to have fitted other remote things in snowberry.
Spike - " I think I am nearing being buried under the patio. "


On this occasion, despite the sub-title of this article, the boat was not procured for her looks but as the build progressed, her comely appearance grew on me even if they failed to charm the wife.
Stan Reffin - "not built from any kit"


Hull construction from 1/8 1/16 ply/ 1/4 sheet balsa and plastic card. Power supplied from 2 6 volt 1.8 amp hr nicads.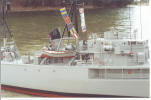 A 1/48 scale destroyer that served in WWII, Korea, and Vietnam.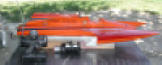 My old pickle-fork fork hydro 7.5cc k&b powered.
Steve Beasley - "She looks real menacing to any drug smuggler."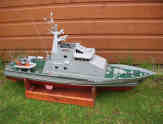 That said, she gives a spectacular bow wave, and a great turn of speed, however, I feel Not a boat for sailing on windy days! She has a high sided superstructure and essentially sails ala warship style


Finally after a 10 week wait it here. The kit has arrived. So I guess its time to get head down arse up and get he thing Built, Iíve been looking forward to this day for a while now. I feel like a Kid in a toy shop at Xmas time (so excited that I think I made a mess in the front of my pants) (well not that excited but bloody happy).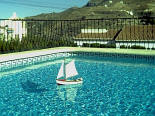 Photos taken of my model dingy sailing on swimming pool in Spain, in the mountains of the Costa Blanca. Took it with me in suitcase, it's only about 12 inches long!
Tom Caroll "Teeth are from my pet piranha. They were a perfect size for this project.!!!


My model Orca is 36"x10" and except for the hull, is entirely built from scratch. The hull was constructed from bits and pieces from a Midwest Boothbay Lobster boat kit.
Tony King - "I scaled it up from a little book called the "lore of sail " ".


Its recently had almost a complete rebuild due to it being stored in a lockup that unknown to me had a leak in the roof, and guess what was directly underneath, (you guessed it.)
D Thompson - A class U boat

It is an Engel U-177 BUT changed to U-852 painted in unusual colours.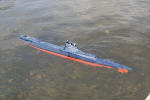 The hull is an old Darnell moulding .... The ballast system is a scratch built set-up based around a compressor system with a central ballast tank.


I have been making models for over 40 years now , but this is my first scratch built of this size, It was totally scratch built, and is modelled after my brothers 44 foot Defever.
Plenty more room on the server for your model boats and projects...!